Bones Fest XXII is in Lincoln, NH on June 7-10, 2018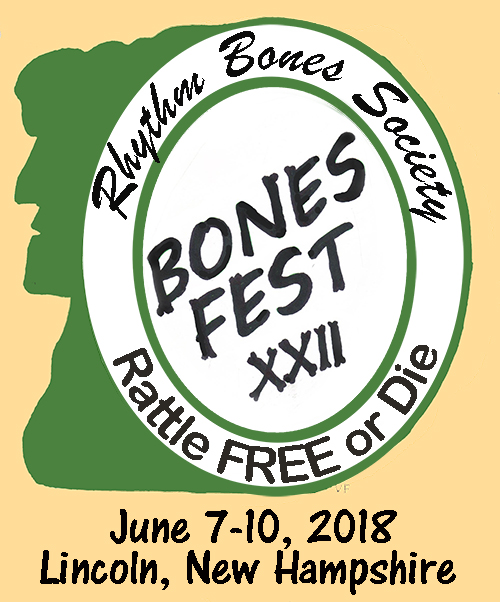 Bones Fest XXII will be in Lincoln, NH on June 7-10, 2018. Lodging will be in the cottages at the Indian Head Resort in Lincoln, NH where room rates for the given weekend would be $80-$90/night per cottage, each sleeping up to 4 people. The cottages are individual structures all located right next to each other in a small "village", allowing us to all be near each other and have a communal lawn area to grill, hang out and play bones! For those who prefer regular hotel rooms, the Indian Head Resort offers these as well at a slightly higher price. For more information about the cottages,
visit: https://indianheadresort.com/indian-head-cottages/
How To Register For BFXXII (the registration fee is $75).
Step 1. Click HERE to complete the online BFXXII Registration Form
Step 2. Click the 'BUY' button below to pay the Registration Fee online
or mail a check for $75 for each person attending to
Rhythm Bones Society, 1060 Lower Brow Road, Signal Mtn, TN 37377
A tentative schedule is as follows:

Thursday, June 7th:
7:00 PM – Reception at a local bar/eatery with a separate room for us to play (appetizers & finger food included with registration)
Friday, June 8th:
8:30 AM – Breakfast at Polly's Pancake Parlor (included with registration)
10:00 AM – Take tram up to the top of Cannon Mountain to take a photo shoot and play on the top of a mountain!
11:30 AM – Workshops
1:00 PM – Catered lunch (included with registration)
2:00 PM – Workshops/ Jamming
6:00 PM – Dinner on your own in Lincoln
Saturday, June 9th:
9:00 AM – Breakfast (included with registration)
11:00 AM – Performance at Clark's Trading Post (in the Bear Ring) – 25 minutes.
12:30-2:00 PM – Boy Scout Workshop Time – 1 or 2 presenters and everyone else as support to help Boy Scouts hold and play the Bones to prepare Scouts for Music Merit Badge
2:00 PM – Performance at Clarke's (in the Bear Ring) – 25 minutes  
2:30 PM – Hand out Badges
3:00 PM – DOWN TIME
5:00 PM – Dinner on your own in Lincoln
5:30 PM – Doors open at concert venue for preparations
7:00 PM – Concert @ One Love Brewery
Sunday, June 10th: Good-byes ☹