Bones Fest XXI is in San Antonio, Texas
on August 24-27, 2017
Quick Steps to Register
1. Click 'Pay Now' Button if paying online
2. Click HERE for Registration Form, then print, complete and mail including your check if paying by check.
Dennis Riedesel is hosting Bones Fest XXI. He hosted Bones Fest XV in 2011.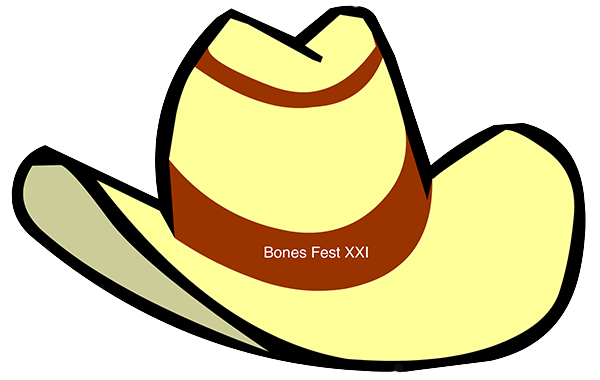 Bones Fest XV that I hosted was dubbed the Performance Fest, however, I am working on making BFXXI the Vacation Fest.  Immediately below is the preliminary program and you can scroll down to see more details.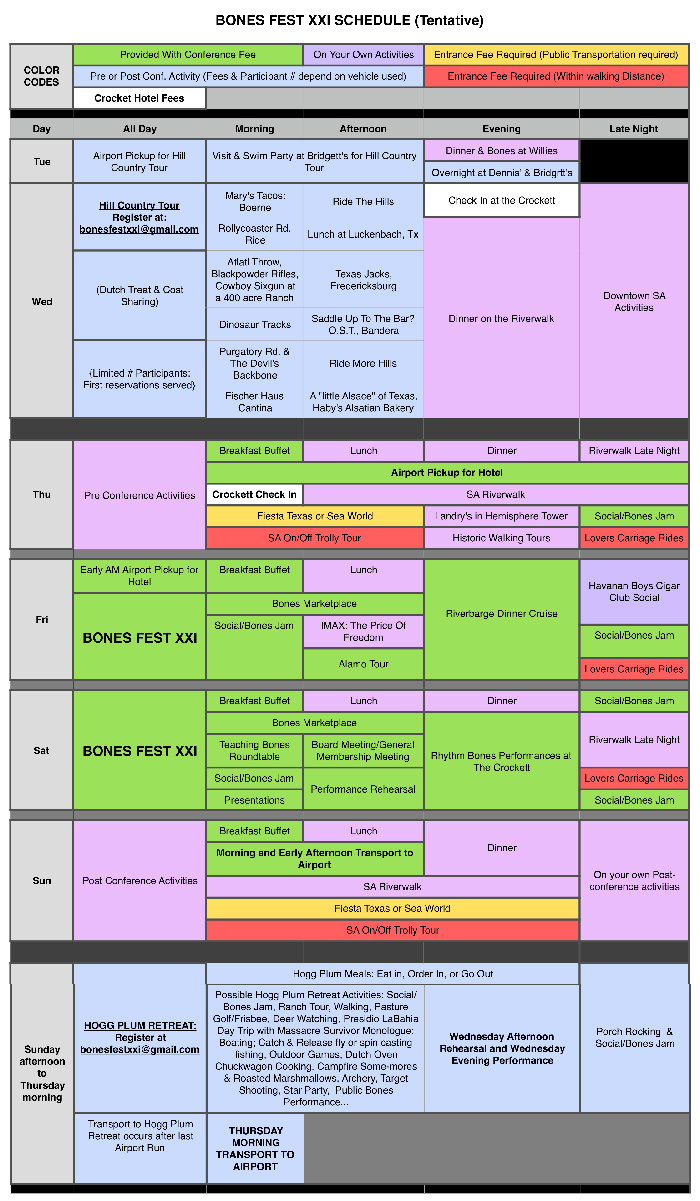 Downtown San Antonio is a tourist attraction so things may be a bit more expensive than the last several Bones Fests.  I am trying to save you money so that the overall expenses will be somewhat comparable.
We will be staying and meeting at the Crockett Hotel which is across the street behind the Alamo compound and about 2-3 blocks from the famed San Antonio Riverwalk.  The Crocket supposedly has a wonderful free breakfast buffet so save yourself some $ if you forgo the expensive breakfast venues elsewhere.  All our main Fest  activities will occur at the hotel so you will not have to travel to other venues--other than some short walks. To Make Room Reservations: 
This direct link will send you to the Crockett Hotel's booking engine with BF XXI information pre-populated: 
https://reservations.travelclick.com/14878?groupID=1721972
Group Code: RHYTHM
I will provide transportation between the airport and the hotel so:
1, Do not rent a car--save yourself that expense.  Overnight parking is between $25 to $40 per day (There is no free parking anywhere in the downtown area!!) so save yourself that expense. Those of you who live close to San Antonio and will not fly, let me know and I will arrange for parking near my home and transport you into downtown.
2. Taxi, UBER, shuttle, etc., run between $20-$30 one way so save yourself some more money and ride with me.
3.  My first priority is to get participants to and from the airport so depending on arrival and departure times, I may be able to transport to other tourist attractions beyond walking distances.
Friday afternoon we will chow down some Casa Rio Mexican food aboard two river barges cruising along the Riverwalk. The fees are included as part your registration.  As we did last time, we will probably be "boning on the river" and will try to take the fest group picture while on the river barges
BONES FEST XXI Tentative Schedule
I. Pre-Conference:
A. BONES FEST XXI Pre-Registration Period TBA
B. Crocket Hotel Registration: Now Open
C. Book Your Flights
D. Texas Hill Country Tour, Wednesday. Natural Bridge Caverns, Cowboy Action Shooting, Blackpowder Shooting, River Tubing, Lukenbauch Lunch (We will perform during lunch), Texas Jack Shopping, Bandera Cowboy Saloon, Castorville Pasteries
E. On your own--San Antonio Tourists Attractions

II. Thursday, August 24, 2017
A. All Day:
1. San Antonio Airport Transportation Service Provided!
2. Crockett Hotel
a) Check-in
b) Alamo Room:
(1) Bones Fest XXI Registration, Vendor Setup, Jamming and Visiting
B. Lunch and Dinner on your own
C. On your own--San Antonio Tourists Attractions

III. Friday, August 25, 2017
A. Morning:
1. Crockett Hotel
a) Free Breakfast Buffet
b) Alamo Room:
(1) Vendors, Breakout Sessions (TBA), Jamming and Visiting
B. Afternoon
1. Lunch on your own; remember we will have Mexican Food on the Dinner Cruise!
2. iMax "The Price Of Freedom" followed by a tour of the Alamo Compound
C. Evening
1. Casa Rio Dinner River Cruise
2. Crocket Hotel
a) Alamo Room
(1) After-hours Jamming and Visiting
b) Pool area
(1) Havana Cigar Club Reception

IV. Saturday , August 26, 2017
A. Morning:
1. Crocket Hotel
a) Free Breakfast Buffet
b) Alamo Room:
(1) Vendors, Breakout Sessions (TBA), Jamming and Visiting
B. Afternoon
1. Lunch on your own
2. Rehearsal for Evening Performances
C. Evening
1. Crocket Hotel Alamo Room
a) Bones Fest XXI Performances
b) After-hours Jamming and Visiting

V. Sunday , August 27, 2017
A. Morning:
1. Crocket Hotel
a) Free Breakfast Buffet
b) Check-out
B. Morning & Early Afternoon
1. San Antonio Airport Transportation Service Provided
C. Retreat participants travel to Hogg Plum

VI. Post-Conference:
1. Rhythm Bones Hogg Plum Retreat
2. On your own--San Antonio Tourists Attractions (below are suggestions)
Short walks: World Heritage Mission Tours via On/off Trolly, Cathedral of San Fernando, Water Taxi, Menger Hotel Bar, Segway rides/tours, Battle For Texas: The Experience, Carriage Rides, 13 Days Of Glory iMax
Long walks: Institute of Texan Cultures, Majestic Theater Tour, Spanish Governor's Mansion, Casa Navarro State Historical Site, King William Historical District, The Buckhorn Saloon and Museum, La Villita Historic Arts Village, Walk the Entire Riverwalk, El Mercado/Market Square
Transportation Necessary: Tourist Attractions--SeaWorld and Fiesta Texas via "Via Bus", San Antonio Zoo/Eagle Train, SA Museums
Very Special Hogg Plum Ranch Retreat: Private Cowboy Town: Bunk-housing, Bathhouse, Opery-house, Kitchen, Church, Saloon, Outbuildings.--Wildlife: Bass/Pearch Fishing, Hybrid Texas White Tailed Deer Herd, Wild Turkey.--Outdoor Activities: Texas Brush-country Walks, Cowboy Action Shooting Range, Chuckwagon or Dutch Oven Cookout, Campfire, Wagon Rides.--Day Trip: Presidio La Bahia, Isaac Hamilton Monologue, Hanging Tree Restaurant Lunch
Restaurant Listing on and off Riverwalk to be published later