News
Video of the Month is a Highlights Video
The Video of the Mont is a repeat of the highlights video shown after last year's Bones Fest XXII. This gives a good picture of what a Bones Fest is like to anyone who may not yet decided to attend this year's Bones Fest XXIII, da' Blues Bones Fest, in Clarksdale, Mississippi. To Register, Clike HERE
Blues Bones Fest Late News
Commemorative bones will be available to Rhythm Bones Society members at Bones Fest XXIII at my cost, $15 per pair (reg. $25 plus engraving) in bird's eye maple or purple heart (see below).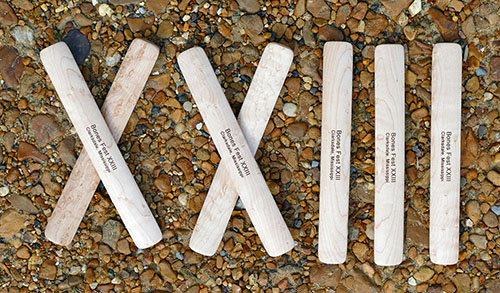 BONES FEST XXIII is just around the corner, only 5 weeks away; we have over 30 bones players and future bones players registered and anticipate more will get on board. When I spoke with Bill Talbot, owner of Shack Up Inn, last week there were only 10 rooms/shacks left in the block he set aside for us, so if you want to stay at the Shack Up for the full Mississippi blues experience get a reservation soon. There are also other motels and hotels available in town, I would suggest a new one called Traveler's Hotel. It looks like we have several beginners and newer bones players coming in and that is a great situation in that rhythm bones was once more prevalent in the blues and reintroducing the bones back into the blues is one of the goals of Bones Fest XXIII. Of course all genres of music and styles of bones playing are welcome as always.
Thursday evening May 2nd will be a hospitality and greeting session at Shack Up Chapel with hors d'oeuvres and a cash bar from 5 to 8, with blues music and bones jamming going on. Friday and Saturday breakfast will be served from 7:30 to 9:00, and lunch from 12:00 to 1:30 by Ms. Sasha Montry, our fabulous local caterer, cost included in registration fee. Evening meals will be on your own at local cuisines. However, on Friday a local vendor, Mr. Bobby Cook will be at the Shack Up doing a crawfish boil from 4:30 to 7:00, before night jams at 8:00 at Stan Street's Hambone Art & Music Gallery, featuring The Hopeless Case Bar on 2nd Street in Clarksdale. We will have music happening and space for teaching bones in back and working on our individual performances for our public show at Ground Zero blues Club on Saturday evening. Ground Zero features "Southern Soul Food" so if you want to chow down on the real thing before the show it is exceptional. I had a pulled pork plater with meat hot out of cooker last week "WOW"! The climax of every Bones Fest is the "individual bones playing performances" which will take place on the famous stage of Ground Zero Blues Club, where every blues man wants to play. We will have the stage from 7:00 to 9:00 for our performances followed by one of my very favorite blues bands the fantastic "Organgrinders" – "Come and party with the Monkey". Enjoy amazing music, food, Southern hospitality and fellowship at Bones Fest XXIII.
If you are selling bones try to keep yourself mobile as we will be moving around in the evenings. Workshops and day time activities are still in planning stages. Many local musicians have expressed interest in the festival and will be at Shack Up and be available for jam sessions.
Thanx, Randy "DaBonesMan" Seppala    dabonesman@gmail.com


Vol 21, No1 Newsletter Online
The Vol 21, No 1 issue of the Rhythm Bones Player is in the mail for members and is online for the month of April. There are three major stories, a profile of Spike Bones, a story about a New Hampshire player, Cevil Rivers, and a touching story about a pair of rhythm bones that entertained soldiers in the trenches during World War I.
Press the Back Button to Exit