News
Bones Fest XXIV, July 25, 2020, Is Virtual!
Register NOW For Bones Fest XXIV!
Click HERE to Register
The RBS board has approved Bones Fest XXIV as a Virtual Bones Fest using ZOOM teleconferencing technolog, The exciting aspect is that people who have never been able to attend a Bones Fest are attending.  That means we have rhythm bones players from around the world in virtual attendance. Below is a preliminary overview of BFXXIV that will likely change as more Registration Forms are received. Click HERE for Preliminary Program details.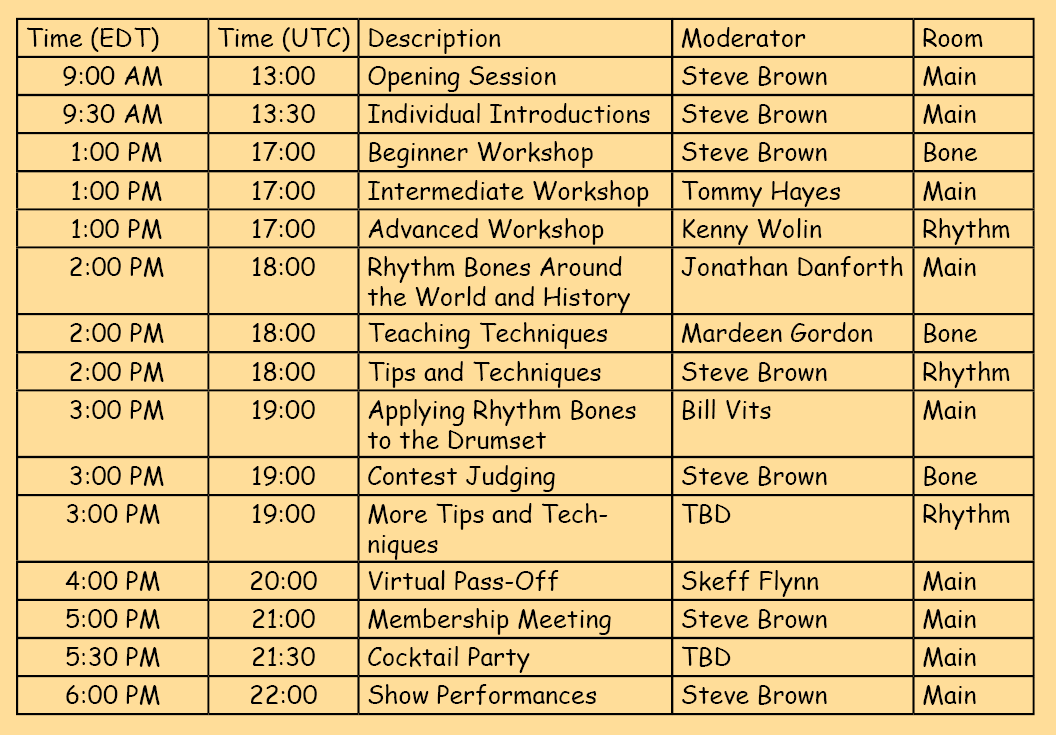 Would You Like to Be in a BFXXIV Workshop
Do you have something to share at Virtual Bones Fest? We will have a Tips, Techniques, and Food for Thought session. If you have a relatively short (10-15min.) presentation, contact Steve Brown at stevebrownbones@gmail.com. We have a limited number of slots, and would ask that you focus on teaching techniques or new information. Remember that each person will have a chance to demonstrate their own personal style in the Introductions Session. 
The Photograph of the Month is our Volume 22, No 2, Newsletter
    The Photograph of the Month is Page 1 of the 2nd quarter Rhythm Bones Player newsletter.  Highlights include profiles of Ernie Duffy, Sky Bartlet, James Yoshizawa, Walter Hollister as well as a story of online rhythm bones teaching and more details on the virtual Bones Fest. Click the photo to read the newsletter which will be online for the month of July. 
The Video of the Month is Vgo's Blues Workshop at BFXXIII
Click the right upper box on our homepage. This is Part 3 from Vgo's Blues Workshop at Bones Fest XXIII in Clarksdale, MS, the birthplace of the Blues, and more will be shown over the next months. This is an outstanding piece of work that will eventually become a permanent workshop on our website. Parts 1 and 2 can be watched by clicking below.
Previous VOMs from BFXXIII are listed below as they are just too good to be viewable for only one month.
July - Facilities and Musicians
August - Performer Highlights
September, Ron Bruschi
November - Kate Barfield
December - Randy Seppala
January - Skeff Flynn
February - Sharon Mescher
March/April - Steve Brown
May - Vgo's Workshop, Part 1
June - Vgos Workshop - Part 2
Press the Back Button to Exit