News
Bones Fest XXI Update
Click HERE for Information and to Register for Bones Fest XXI
*Hotel reservations must be made before July 23 in order to receive Bones Fest rates.
**Registration must be made before July 23 so I can reserve barges and meals for Friday's dinner cruise. Remember the dinner cruise fees are included in the festival registration fee.
***Send to "bonesfestxxi@gmail.com" ASAP your airport arrival and departure dates and times so I can set transportation schedules! Contact me at 361-676-2208 on day of arrival if your itinerary changes from what you sent to me.
Rhythm Bones Society Members Very Special Pre and/or Post Fest Offerings
Our Host, Dennis Riedesel completed the arrangements for Optional Pre and Post Bones Fest events. These are not part of the BFXX Registration Fee and Dennis asks that you contact him at bonesfestxxi@gmail.com if you want to join in.
Texas Hill Country Tour; Wednesday, August 23: Limited to 12 or less participants. Arrive on Tuesday, August 22--transportation provided to Kersh residence for patio, pool, wine room, and visiting; local restaurant dinner with possible bones performances; overnight stay at Kersh and/ or Riedesel residence; Wednesday's Tour ends at the Crocket Hotel. COSTS: Crocket Hotel room reservation for Wednesday, August 23; Entrance/participation fees; Meals, snacks & libations; Sharing of transportation costs.
Drive through the Texas Hill-country with these tentative activity choices: Boerne, TX's Mary's
Tacos breakfast; Atlatl throwing, Six Shooter & Blackpowder Shooting at a Hill-country Ranch;
Dinosaur Tracks; Purgatory Road to the Devil's Backbone; Fischer House Rest Stop; Lunch & Rattle
Bones in Luckenbach, TX; Tubing the Guadalupe??; Saddle-up to the bar in the cowboy capital of TX;
Castroville Sweets.
Hogg Plum Ranch Retreat: Sunday evening, August 27, through Thursday morning, August 31, with a
public performance in the town's Opera House Wednesday evening; Possible Day Trip: Presidio La
Bahia, Goliad Massacre Survivor Isaac Hamilton Monologue. Transportation and lodging is provided; Costs--Chip in for gas and food; Requires Thursday late morning or later flights from the San Antonio airport.
Private Cowboy Town: Bunkhouse with 4 rooms with 4 single beds per room; Photoshop with 2 single
beds, Bank with double bed, Barbershop and Carpenter shop with bunk beds, Rustic cabin at lake with
cots; Bathhouse, Opera house, Kitchen, Church, Outbuildings.
Outdoor Activities: Texas Brush-country Walks, Cowboy Action Shooting Range, Chuckwagon or Dutch
Oven Cookout, Campfire, Wagon Rides; Birdwatching; Star Party; Boat Rides; Wildlife--Bass/ Perch
(Spincast, Fly, or Tenkara Fishing), Hybrid Texas White Tailed Deer Herd, Wild Turkey.

Tim Reilly is July Video of the Month
Tim Reily is one of the best rhyhm bones players in the world. Not only is his technique great, but his interpretation of the music always pleases. The July Video of the Month shows his Bones Fest XX performance accompanied by Jonathan Danforth on fiddle and Kenny Wolin on concertina.
Preview of New rhythmbones.org Homepage
The Photograph of the Month is of a new Homepage being developed for our rhythmbones.org website. Many people have told us it is hard to navigate such a large website, and the new proposed Homepage is all about navigation. When you click on the POM (left image box) you will get a preview that is for a personal computer or tablet, and after the design is complete it will be modified to work on a smartphone. Scroll up to see all the navigation. Note that for now this is the only way to go to our Online Museum.
You can help with the new design by letting us know what you would like to see on the website. Use the Contact Us Page and thanks.
Beth Lenz Thesis Now in the Rhythm Bones Museum
Beth Lenz was a ethnomusicology student at the University of Michigan and with the help of Percy Danforth wrote a 312 page Master's Thesis titled 'Bones in the US: History and Performance Practice.' RBS purchased a copy of the thesis several years ago and a few members borrowed it to read. Recently Beth gave us permission to put her thesis on our website and it is now part of our Museum. To read it click the History navigation bone and then her name. Many thanks, Beth
Brad Dutz Releases Rhythm Bones and Bodhran Duets DVD
BRAD DUTZ (on left) and BRUCE CARVER stared playing improvised rhythm bones and bodhran duets together in 2011.These are free form compositions that occur during the process. In 2012 Brad and Bruce were selected to do a bones and bodhran clinic for the Percussive Arts Society for the International Convention in AUSTIN, TX. They titled the clinic "Bones and Bodhran beyond tradition." After putting just a few of their duets on YOU TUBE, composer BEAR McCREARY hired them to play the 1st and 2nd season of BLACK SAILS. They have released a DVD of their duet sessions titled "Bad Idea: the DVD." Brad and Bruce continue to get together frequently and plan to release more duets in the future. To hear something similar, click HERE.
If interested in this DVD contact Brad at braddutz@gmail.com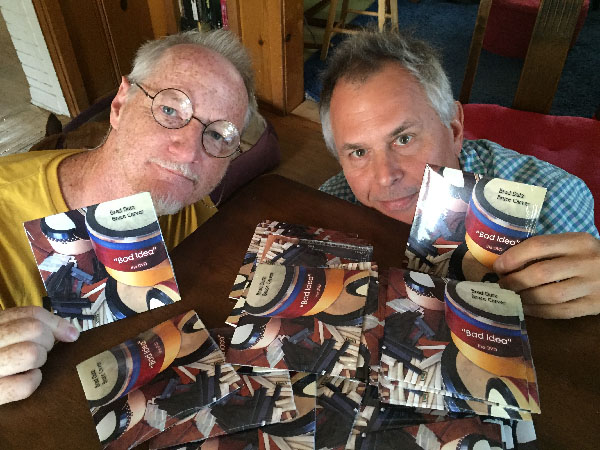 .
Press the Back Button to Exit