News
Preliminary Program for Bones Fest XXI
Yes, Bones Fest XXI is back in San Antonio, TX hosted by Dennis Riedesel, and you can now register for the Fest. Scroll down to see the preliminary program and click HERE to view the Registration Information. If you are paying by check, please print the form and mail the completed bottom of the form with your check. If paying online, please press the Buy Now button and also print and fill out the registration form and mail it to RBS, 1060 Lower Brow Road, Signal Mtn, TN 37377. We need the requested information to complete the program and finish the BFXXI Program Booklet.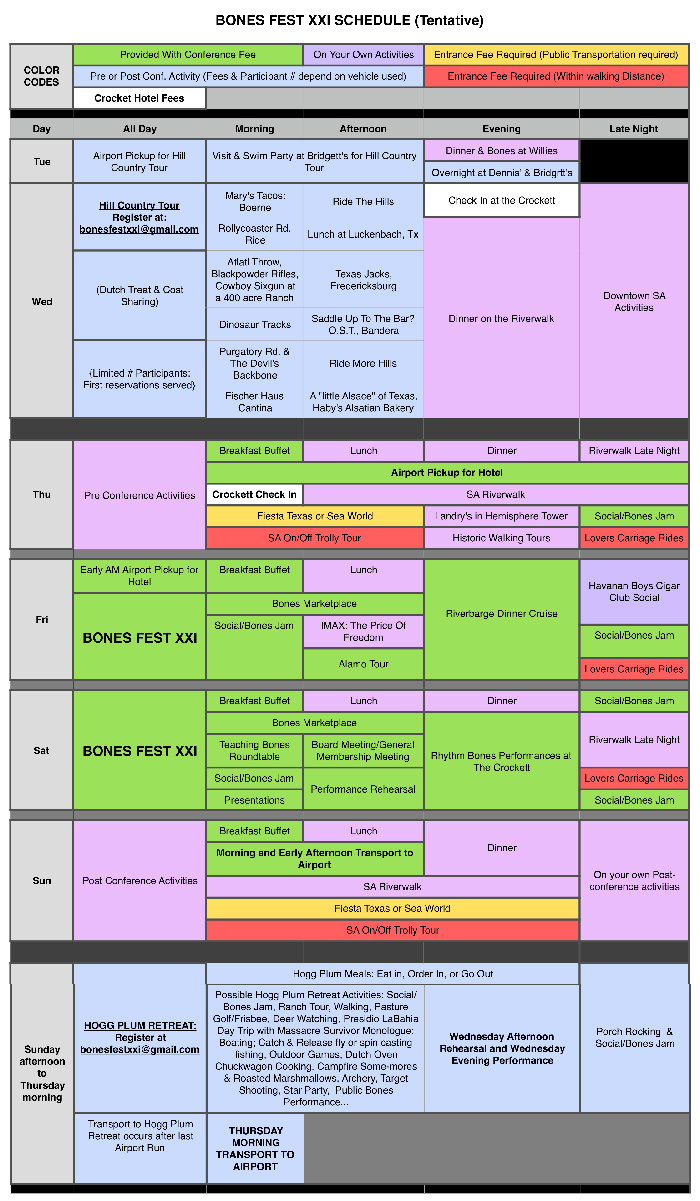 Dutch Kopp is June Video of the Month
Dutch Kopp gave us the 'Dutch Penny Bones' that are inexpensive to make and ideal in size for kids (Click HERE for its story). He is also the Video of the Month playing a bodhran with his rhythm bones instead of a bodhran stick.
Check Out Hans' Rhythm Bones Instructional Video
Longtime member from the Netherlands, Hans Weehuizen, has made a nice rhythm bones instructional video. Previously, he has made similar videos in Dutch, but this one is in English. Click HERE to view it.
Have you Visited the RBS Online Museum
This was a news item in the last website update. To date it has not generated any email responses
which are needed to continue development.
    The daughter of the late Clif Ervin (with help from Scott Miller) donated a box of his rhythm bones to RBS and asked us to do something nice with them.  They are unique and it would have been nice if we had some place to display them.  At the Board meeting at the recent Bones Fest, the idea of an Online RBS Museum to display them was discussed, and we are happy to announce that a prototype Museum has been implemented and can be viewed by clicking HERE. 

        Please note that this is a working version of the Museum which will have more content and will later work with smartphones (for now try it by viewing horizontally). In general, when you click a photograph you will see one or more related photographs (now more likely just one), and when you click inside the text box you can read more about the item.

        With that in mind you are invited to submit items to add to the museum by sending one or more photographs and a description (it will be edited if needed) which will become the museum text.  Items must have historical rhythm bones significance, and the Board will determine what items are added to the museum.  Help us make this a Museum people want to visit again and again. 
Press the Back Button to Exit