Online Instruction
There are two general styles of rhythm bones playing, Traditional and Percussive though many play a bit of both. Traditional is built on the Triplet and Percussive is built on the Tap.
Traditional Style by Percy Danforth
One of the first rhythm bones instruction was a video tape by legend Percy Danforth. Because of the importance of Percy, we have extensively documented his rhythm bones life and you can read about him in his memorabilia collection by clicking HERE. His instructional video was produced by Lark in The Morning, and they have converted it to a DVD that is still available for purchase. Because of that we cannot include it on our website, however, they have allowed us to put the non-instructional video on our website (click HERE to view). Recently we added an instruction booklet by Sue Barber and Percy Danforth titled "How to play the Bones" which was donated to RBS by its producer Andy and Bill Spence of Andy's Front Hall. Click HERE for that instruction.
Percussive Style by Dr Fred Edmunds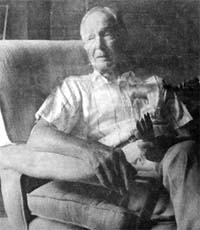 Dr Fred Edmunds' Bones Unlimited Instructional Course is now on-line.
Click below for Beginner Instruction
Chapter 1 (How to Hold the Bones)
Chapter 2 (Taps)
Chapter 4 (Triplets)
Click HERE for the complete 'Bones Unlimited' course
If Everett Cowett is the father of the Rhythm Bones Society, Fred Edmunds is its grandfather. Fred was a rhythm bones enthusiast who worked very hard to introduce people to rhythm bones playing. He sold rhythm bones and wrote a monthly newsletter. He also talked Ev Cowett into hosting Bones Fest I. You can read a story about him in the on-line RBP newsletter, Vol 5, No 3.
He also wrote a book and made a video titled 'Bones Unlimited," and his beginning lessons are presented here. His complete course that emphasizes the percussive style of playing is also on-line.
The original book and video and the on-line version are copyright 2007-2011
by the Rhythm Bones Society. All rights reserved.